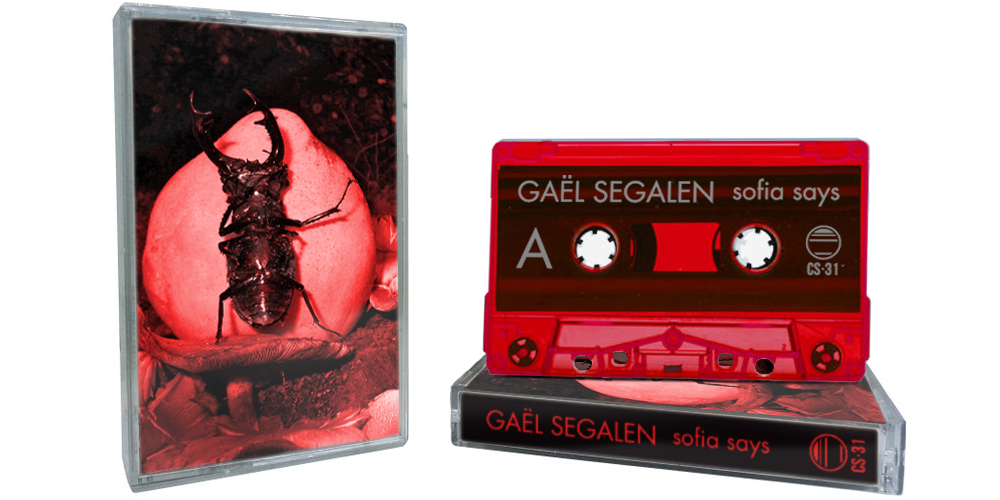 –
Sofia Says, Gaël Segalen
Pieces based on improvisations, recorded, arranged, mixed by Gaël Segalen in Paris between 2016 and 2018, mastered by Eric Douglas Porter.
Photography by Isabelle Rabaud and Gaël Segalen
Layout by Semitone labs
Three years after the danceable field recordings of her "L'Ange Le Sage" debut LP, the Parisian sound artist, activist and musician Gaël Segalen delivers her third album, "Sofia Says", picking up where her "Memoir of My Manor" cassette stopped. Gaël adopts a persona, Sofia, and through a third person dissociation she presents a dynamic sample of her compositional psyche, creating a compelling mixture of abstract noise experimentations, field recordings and ecstatic electronic manipulation.
This ensemble of sonifications, made of augmented/edited improvisations, oscillates between the individual and the myriad, between chaos and wisdom. It first depicts collective organization, with a mass of creatures coexisting and populating spaces voluntarily, through a will of celebration, as in "Like Warehouse" where sounds resonate, or like the tribute referred to in "Cortege". Natural sounds surface through synthetic and rhythmic sonic masses, the essential presence of the living. There are voices emerging from this album, signals that are suddenly raised – invitation, alert, incantation, exhortation. Like traces and awakening marks, that of birds, taking back the abandoned hangar in the morning after a warehouse party, that of watchwomen and men who call for vigilance during gatherings in need of remaining close together. That of whistles, voice call outs, chants, multiple bells, train rail hammering, wheels that come and go, appear and disappear.
Shifting from collective vision to that of personal determination, polylistening allows for the desire of detachement, elevation, seeing the light as well as multiplicity and singular choices on coexisting and dialogue.
"Mountain" – both east and west slopes – offers a different view. From a height, we hear incantations about the observation of the masses and displacements and the harmony that can derive from them. Large, flying, isolated creatures or clouds move in timelapse, progressing together or moving apart in accelerations, time jumps, multiple gaits.
There's often a lull at the end of the pieces. "I see you" marks the epic told by Sofia, the oracle, the priestess. In a final whirlwind, in a lament, this is a hymn to love, passion and noise and to the mechanics and cadences of life itself, born from chaos which, before leading to "Horizon (Harp pt.2)", the bonus track, dissipates into the ether and open questions.
Gaël Segalen has been a genuine explorer of sound for more than 20 years. Besides her record label accreditations and her diploma in electroacoustic composition in the lineage of the GRM (Groupe de Recherches Musicales), she has worked for Radio France Internationale, as a sound mixer for film, before jumping onto many sound art psychogeographical projects under the name of IhearU and multimedia collaborations such as with artists Constanze Ruhm, Marlies Pöschl, Shu Lea Cheang, also participating in various compilations, audiowalks, radio productions, online platforms, installations, while travelling the world to collect voices and inspiration for her musical compositions, and giving classes on sound to explore it's therapeutic dimension, using it as a social tool to interact with diverse audiences. She has played and engaged sonic conversations among others with, Joachim Montessuis, Jean-Marc Foussat, Best available Technology, Aki Onda, Brandon LaBelle, duenn, while she maintains the experimental electronic project Les Graciés with Eric Douglas Porter (Afrikan Sciences). She is also co-founder of Polyphones, a Parisian network dedicated to women in musical experimentation, and OWO, the electronic Open Women Orchestra.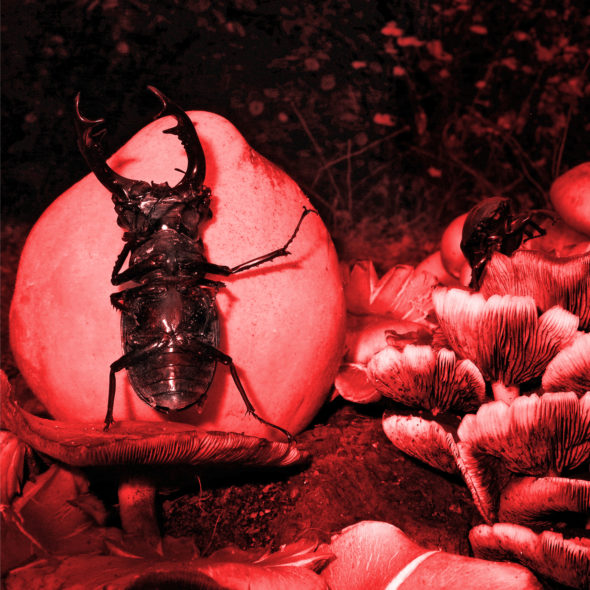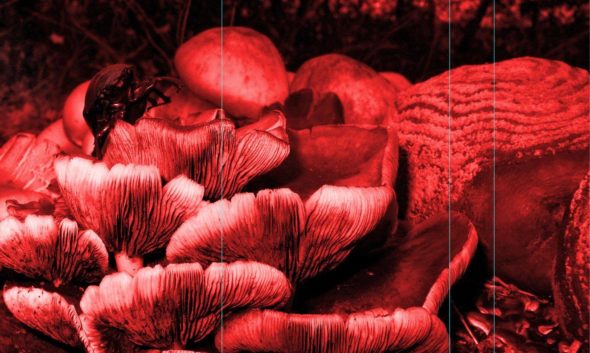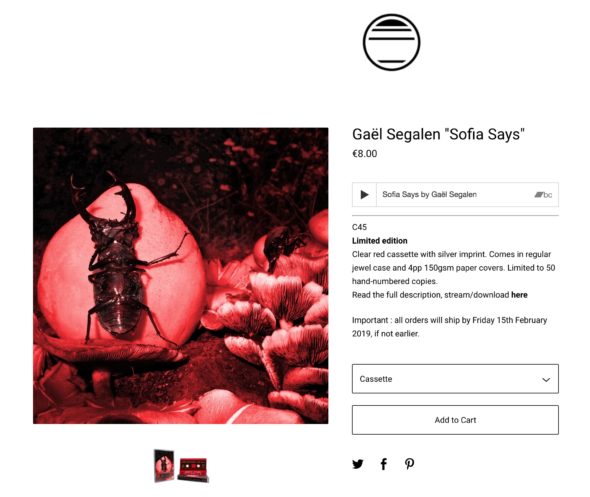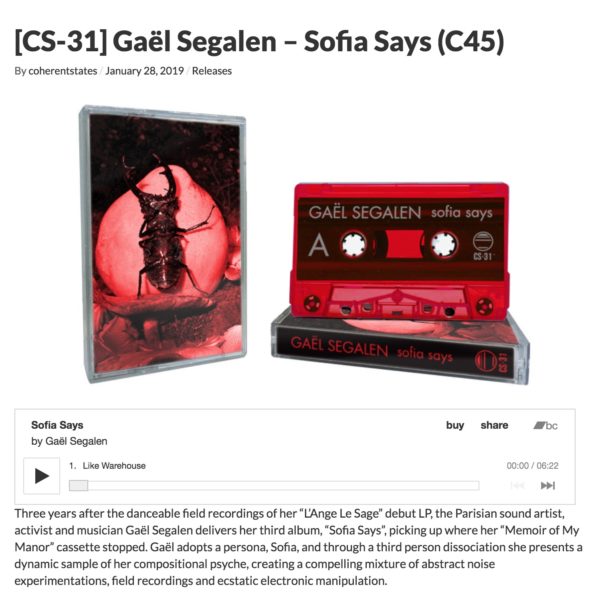 REVIEWS :
– Bandcamp's "new and notable" section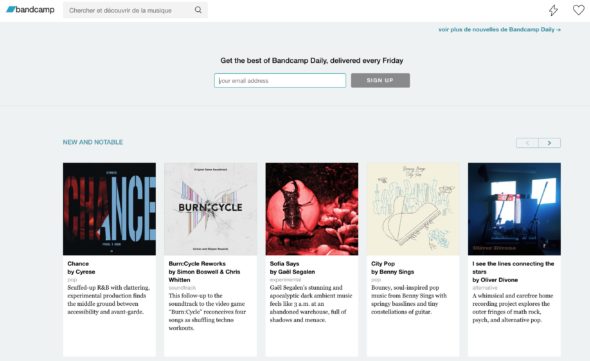 – weekly Bandcloud of feb 1st
>> Bandcloud is a weekly roundup of releases on Bandcamp and Soundcloud selected and delivered by Aidan << Shouts to Aidan Hanratty for listening to the new album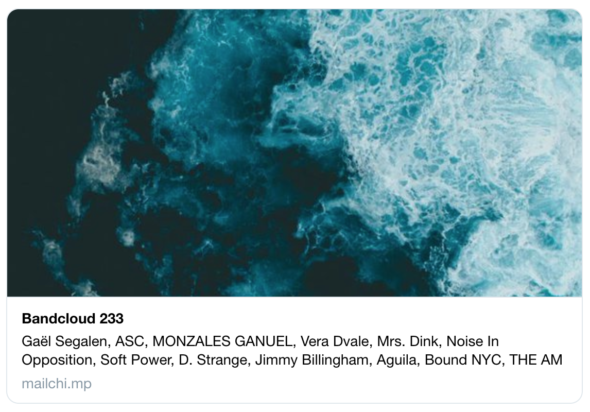 – Froggy's Delight pour l'entretien de la semaine et la chronique de l'album
"Entrez ! Entrez dans la lumière ! Entrez dans la lumière des néons aveuglants au sein d'un tunnel long de toute une vie, qui s'enferme au fil de l'avancée pour finir par offrir un champ de vision tout à coup infini vers la clarté d'un ciel revigoré.
Le nouvel album de Gaël Segalen, Sofia Says, s'articule autour de cinq mouvements distincts qui forment un couloir élaboré pour vous chahuter sans répit, mais en vous laissant malgré tout le soin de vous calfeutrer dans un décor complexe et paradoxalement chaleureux.
Décrire la musique de Gaël Segalen serait une vaine quête à la justesse démonstrative là où son art requiert une ouverture vers l'inconnu, la synthèse parfaite des forces telluriques et des reflets numériques. Dès l'ouverture, "Like Warehouse", la croisée des chemins mélange les musiques électroniques, l'élaboration savante de textures digitales et les manipulations esthétiques formant ainsi une entité sonore dense, riche et complexe qui nous embarque dans un voyage sous terrain remuant, sinueux mais sans cette hostilité de certaines musiques expérimentales parfois difficiles d'approche. Doit-elle autant au field recordings qu'aux influences majeures des univers électroniques de Parmegiani, à qui l'on pense ? Quoi qu'il en soit, Gaël Segalen a su intégrer et transcender ses influences les plus évidentes pour créer ses propres mondes, ses propres sonorités. Tout s'accélère, puis ralentit, comme un ressac profond et délicat, car peu à peu la compositrice intensifie ses arrangements, pour parfois esquisser une mélodie concise et délicate, comme un diamant posé là, au milieu d'un écrin lancé à vive allure.
"Montagne Est", "Montagne Ouest" se répondent intelligemment, comme deux versants distincts. Le second reprenant le même motif, plus élagué, prouvant ainsi combien cette musique est sertie de détails passionnants, et mettant en exergue la complexité des compositions de manière plus prégnante de minute en minute. Néanmoins, jamais nous ne quittons ce tunnel infini, et, fermant les yeux, jaillissent alors les parois qui défilent, et les lumières aveuglantes qui zèbrent les cieux fermés, comme le fond des néons d'un métro parisien.
L'oeuvre est totale et l'alchimiste Gaël maintient fermement le cap d'un voyage absolu qui enveloppe tout l'espace, s'octroyant le luxe de retirer à chacun ses repères. Le parcours atypique de cette artiste volontairement singulière lui a permis de toucher à la radio, au cinéma, aux sciences humaines, au field recording, à l'art relationnel, pour synthétiser ses diverses influences et en extraire la moelle émotionnelle. A force de manipulations des sons collectés, créés de toutes pièces ou composés avec finesse, elle offre trois quart d'heure d'une musique riche, délicate, étrangement ensoleillée, comme dans l'embrasure d'une porte entre-ouverte vers un champ des possibles à l'horizon indéfini.
Après avoir sorti un premier album, L'Ange le Sage sur le label Erratum (2016), puis un second, Memoir of My Manor sur le label FRM-AT (2017), elle sort donc ces jours-ci son troisième album, uniquement disponible sur cassette et digital. Gaël Segalen s'investit parfois dans de belles collaborations, pour s'enrichir de l'autre, à l'image de son duo "Les Graciés" formé avec l'artiste Eric Douglas Porter, et ainsi nourrir sa musique de ses multiples influences certes électroniques, mais aussi tournées vers le Free Jazz ou les musiques de danse. Elle envisage son art avant tout comme un point de départ au dialogue, ouvert à l'autre et au monde.
Après avoir participé au collectif Mu, obtenu un diplôme de composition électroacoustique, et cofondé Polyphones, dédié aux femmes dans l'expérimentation musicale, elle confirme tout son talent de compositrice d'une richesse éblouissante, qui se rapporte autant à notre monde urbain et saturé de sonorités qu'à une nature profonde et volubile qui ne cesse d'évoluer à l'instar du morceau qui vient terminer son nouvel album, "I'll See You again". Après une soudaine et brutale apparition, le titre s'étend sur douze minutes, glissant alors sur un terrain de plus en plus bouillonnant, pour vous amener à un manque d'oxygène rendant la libération du final, salutaire et apaisante.
Car enfin, la musique de Gaël Segalen jamais n'agresse et se veut avant tout bienveillante. Si les contours sont parfois abrupts, l'oeil de son cyclone est, quant à lui, chaleureux et coloré. Elle contribue à faire avancer cette perception en mouvement permanent qui, entre musiques savantes, expérimentales, électroniques et organiques, rappellent que les musiques sont parfois ailleurs, et qu'elles sont avant tout expression, et que cette expression peut et doit prendre plusieurs formes, pour ne pas oublier combien la recherche, dans l'art en général, est vitale si l'on veut continuer à voyager. Et Gaël Segalen propose là un voyage stupéfiant, dépaysant et profondément passionnant."
Jack Line