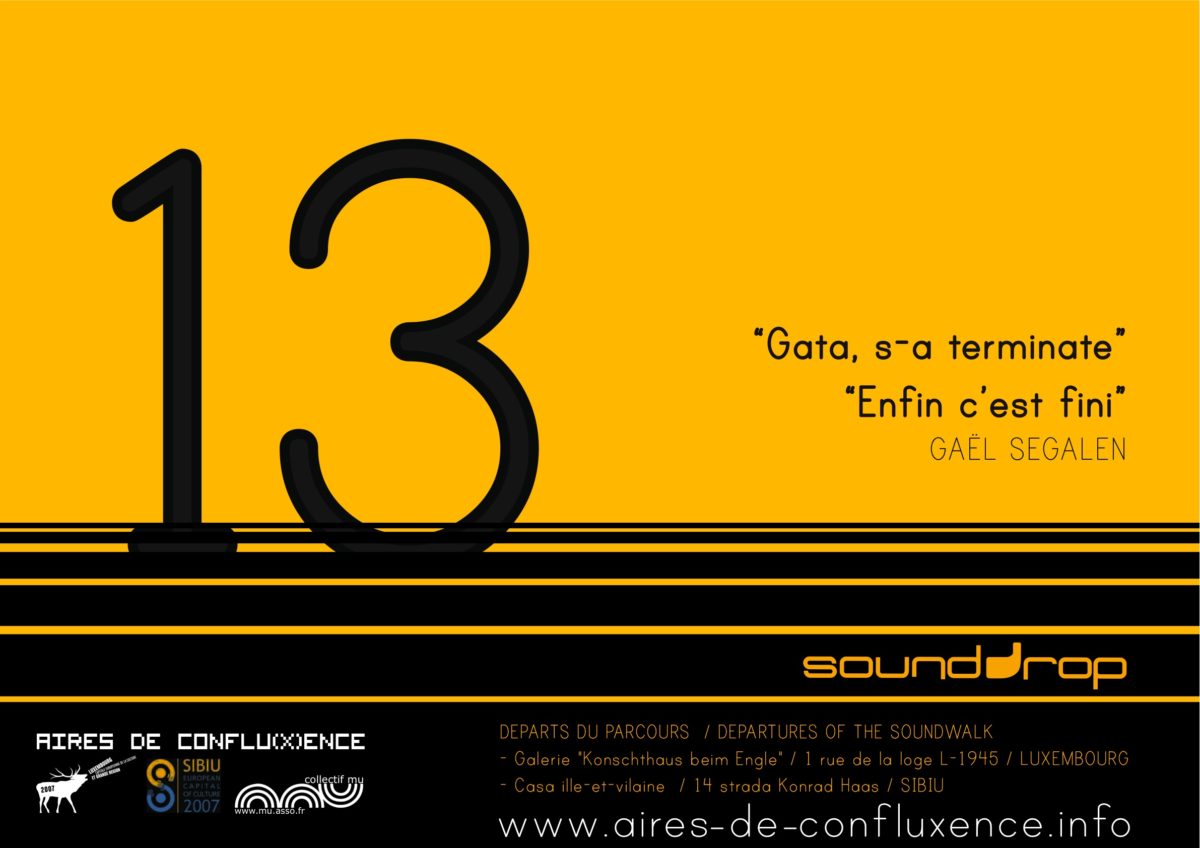 "Gata, s-a terminat" Gaël Segalen, 5'12, 2007
Audio clip: Adobe Flash Player (version 9 or above) is required to play this audio clip. Download the latest version here. You also need to have JavaScript enabled in your browser.
créé à Sibiu, Romanie, oct 2007, Capitale Culturelle 2007
Pour parcours sonore Sound Drop, Collectif MU
Gata, s-a terminat / enfin, c'est fini
Séquence Sibiu (création) :  Gaël Segalen assisté de / assisted by / Méda Ruian Sibiu
Veulent les vilaines que je meure,

leur laisser mon amour.

que je m'en aille aujourd'hui, que je m'en aille demain,

mon amour ne leur restera pas,

car je l'emporterai avec moi sous terre.
vreau arhâdele sa mor

sa le las pe badea, lor.

de mor astazi, de mor mâine

badea, lor, nu le ramine,
ca-l duc in pamânt cu mine.
Want the naughty girls that I die,
to leave them my love.
That I die today, that I die tomorrow,
my love will not stay with them,
because I shall take it with me underground.
—
La voix entrelacée de 2 jeunes amoureux roumains recite l'exécution du couple Ceaucescu. Mort en direct. Avec " Cine iubeste si lasa " (La malédiction de l'amour) de Maria Tanase – Tout droits réservés.
Remerciements à Meda Ruian, accompagnatrice de choix, au couple Mady et George pour leur voix et à Margareta – Rodica.
the interlaced voice of two young romanian lovers declaim the Ceaucescu couple's execution. Live dead.
Thanks to Meda Ruian, companion of choice, to the couple Mady and George for their voice and to Margareta – Rodica.
Vocile impletite a doi tineri indragostiti din Romania recitind executia  cuplului Ceausescu. Moartea lui in direct. Vocile tinerilor impletite cu cintecul Mariei Tanase "Cine iubeste si lasa" (drepturi rezervate/all rights reserved)
Multumiri Medei Ruian, pentru facilitarea alegerilor, cuplului Mady si George, pentru vocile lui, si Margaretei – Rodica.
avec " Cine iubeste si lasa " (La malédiction de l'amour) de Maria Tanase  (dr) droits réservés
Sound Drop est un double parcours urbain (à Sibiu et à Luxembourg) soutenu par une même bande son. Les séquences sont élaborées par plusieurs artistes sonores à partir d'enregistrements réalisés à Luxembourg, Sibiu et à la Goutte d'Or, quartier parisien cosmopolite où MU travaille depuis 2004.
Sound Drop is a dual urban audiowalk (in Sibiu & Luxemburg) seconded by a single soundtrack. Sequences are produced by several artists and based on recordings made in Luxemburg, Sibiu and the "Goutte d'or", a cosmopolitan suburb in Paris.
Le choix des lieux et des trajets à Luxembourg a induit la sélection et la production de 14 séquences sonores. C'est elles qui ont guidé la définition du parcours à Sibiu. Trait d'union entre les deux cités, l'alchimie Sound Drop procède ainsi du montage et de l'hybridation. Par le son, elle projette l'empreinte d'un lieu sur l'autre et en transforme la perception. Hantée par un territoire fantôme, la ville ainsi recréée devient le théâtre d'une fiction à laquelle participe le promeneur-écoutant.
The choice of places and ways in Luxemburg induced selection and production of 14 tracks. These tracks are at the origin of Sibiu walk definition. Hyphen between both cities, the Sound Drop alchemy proceed with editing and hybridizing. Through the sound, it projects the imprint from a place to another and so changed perception. Haunted by a ghost territory, the town, by this way recreated, becomes the theatre of a fiction in which the audio walker takes part.
Conçu et produit par / Conceived and produced by the / le Collectif MU