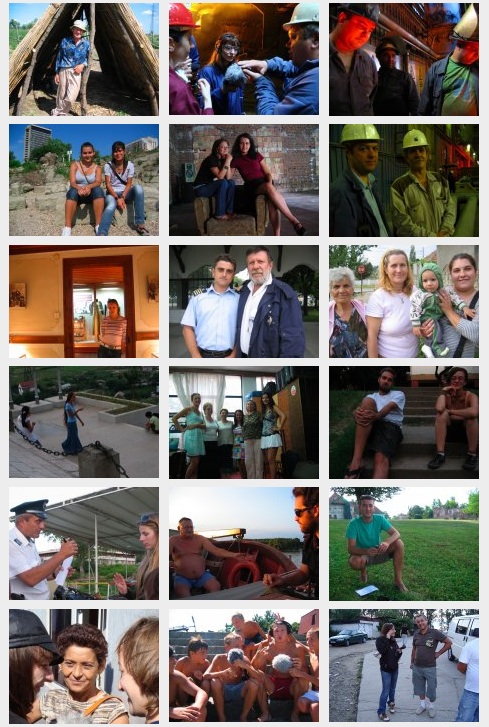 European Sound Delta is an travelling artistic residency that took place during summer 2008 : two boats simultaneously navigated upstream on the Rhine and Danube rivers from the North Sea and the Black Sea to finally meet in Strasbourg, France. On board and in each of the stopover cities, thirty international artists were invited to record their sound environment (field recordings, interviews, electromagnetic and sub-aquatic spheres…) and to use the shared sound materials to compose pieces and produce live concerts along the itinerary.
At the end of this trip, a floating listening lounge is unfolding as an Archipelago of creations : embarked on a specially fitted sightseeing boat (under the boat transparent 'bubble' roof : a 3000 Watts and a quadriphonic sound system !), one will discover there the sound pieces created on board by the residents but also the imaginary audio landscapes from some ten guest composers. These seven cruises along the Strasbourg canals will each be punctuated by a live performance taking place in a different background each time. At the same time, on the «Nuits Electroniques de l'Ososphère»' site, the Mirror Ball installation will display visual documentation of the two parallel journeys… A long vibratory cruise of nearly 3 month, ESD is closing as a final resonance of the sonic and aquatic waves of Strasbourg : Ososphère festival.
Complete list of ESD participants :
Aljosa Abrahamsberg (SIC), Tamara L.Albaitis, Alejandra & Aeron, Rodolphe Alexis, Knut Aufermann, Maria Balabas, Mira Calix, Camil, Carl.Y, Ewen Chardronnet (SIC), Chica and The Folder, Collectif MU, Christian Dergarabedian, Dinahbird, Jérome Dumais, Vincent Epplay, Michel Guillet, Robert Hampson, Candie Hank, Ludger Hennig, Kassel Jaeger, Brandon Labelle, Rainier Lericolais, Katherine Liberovskaya, Kevin Logan, Francisco Lopez, Henning Lundkvist, François Martig, Cosmiq Microbiq, Eric Minkkinen, Minus, Joachim Montessuis, Phill Niblock, Aki Onda, Julien Ottavi, Ottoanna, Paul Panhuysen, Panic city boyz, Alien Pimp, Pistamashina, Jean Philippe Renoult, Jodi Rose, Jean Philipe Roux, Horia Cosmin Samoila (SIC), Gaël Ségalen, Sillyconductor, Igor Stangliczky, Carl Stone, Piotr Talmachou, Tanakan, Aymeric de Tapol, Prins Thomas, TÔ,Vincent Voillat, Sarah Washington, Chris Watson, Claudia Wegener, Frederik de Wilde, Tom Wilson, WPMG, Christian Zanési.
see http://www.sound-delta.eu/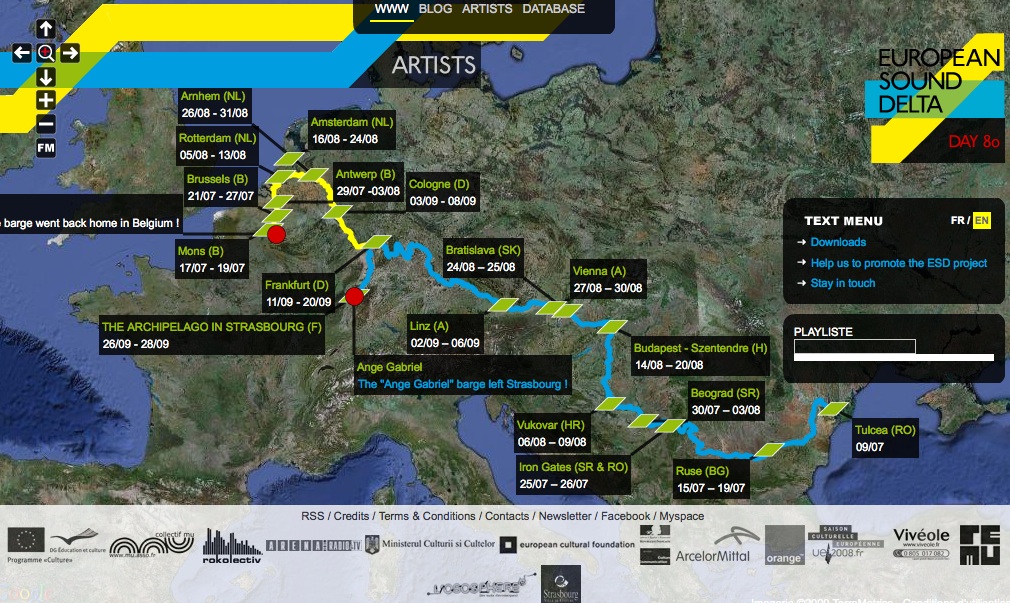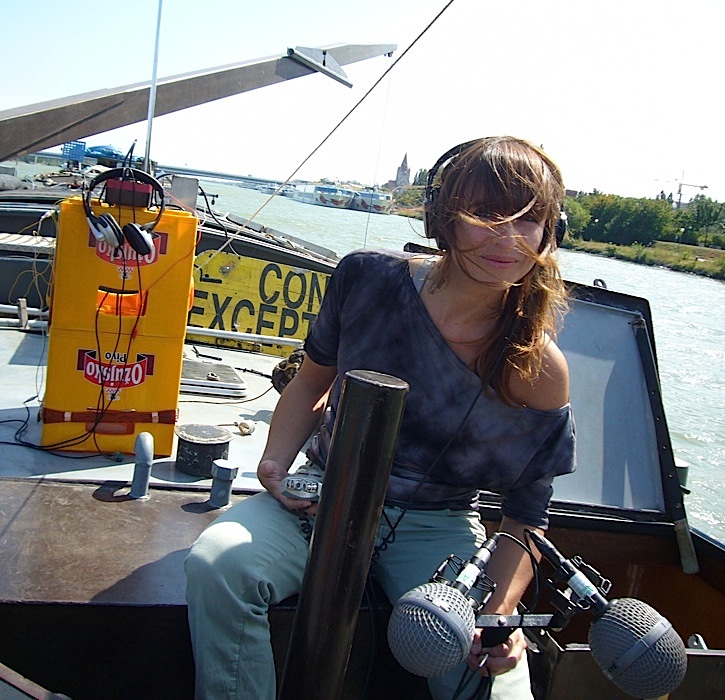 ————————————–
LISTEN to a selection of my field recordings between Sulina, ROMANIA & Linz, AUSTRIA
Audio clip: Adobe Flash Player (version 9 or above) is required to play this audio clip. Download the latest version here. You also need to have JavaScript enabled in your browser.
Belgrade, serbo-croatian female singers rehearsal, group «Kudkrajina»
Audio clip: Adobe Flash Player (version 9 or above) is required to play this audio clip. Download the latest version here. You also need to have JavaScript enabled in your browser.
Freezone of Giurgiu, Romania – beatmetalmachine slowing down
Audio clip: Adobe Flash Player (version 9 or above) is required to play this audio clip. Download the latest version here. You also need to have JavaScript enabled in your browser.
Center of Belgrade, Serbia – martial fountain + music
Audio clip: Adobe Flash Player (version 9 or above) is required to play this audio clip. Download the latest version here. You also need to have JavaScript enabled in your browser.
Sulina, Delta Romania, where the Danube meets the Black Sea – a screaming docked tourist boat, electic buzz and engine
Audio clip: Adobe Flash Player (version 9 or above) is required to play this audio clip. Download the latest version here. You also need to have JavaScript enabled in your browser.
our barge is arriving in Ruse, Bulgaria – our serbian pilote "Yougo" talking to compatriots, as we dock to their boat
Audio clip: Adobe Flash Player (version 9 or above) is required to play this audio clip. Download the latest version here. You also need to have JavaScript enabled in your browser.
Oltenita, Bulgaria – banging water under a metal pontoon
Audio clip: Adobe Flash Player (version 9 or above) is required to play this audio clip. Download the latest version here. You also need to have JavaScript enabled in your browser.
Vukovar, Croatia – boys diving
Audio clip: Adobe Flash Player (version 9 or above) is required to play this audio clip. Download the latest version here. You also need to have JavaScript enabled in your browser.
During navigation – engine and water in my cabin, window half-opened
Audio clip: Adobe Flash Player (version 9 or above) is required to play this audio clip. Download the latest version here. You also need to have JavaScript enabled in your browser.
Ruse, Bulgaria – Silvena and Maya remembering the Danube landscape in a duo
Audio clip: Adobe Flash Player (version 9 or above) is required to play this audio clip. Download the latest version here. You also need to have JavaScript enabled in your browser.
marina of Budapest – waves against pontoon
Audio clip: Adobe Flash Player (version 9 or above) is required to play this audio clip. Download the latest version here. You also need to have JavaScript enabled in your browser.
Mila 23, Delta, Romania – retired fisherman in his bark
Audio clip: Adobe Flash Player (version 9 or above) is required to play this audio clip. Download the latest version here. You also need to have JavaScript enabled in your browser.
Budapest, nightbar – turkish kids getting excited to be out at night
Audio clip: Adobe Flash Player (version 9 or above) is required to play this audio clip. Download the latest version here. You also need to have JavaScript enabled in your browser.
Novi Sad at night – water and rumor reverbering under the pontoon
Audio clip: Adobe Flash Player (version 9 or above) is required to play this audio clip. Download the latest version here. You also need to have JavaScript enabled in your browser.
Delta, Romania – in and out the boat bringing us back from Sulina to Tulcea
Audio clip: Adobe Flash Player (version 9 or above) is required to play this audio clip. Download the latest version here. You also need to have JavaScript enabled in your browser.
Calafat, Romania – manele girl song in the club of Mariana's brother
—————————————-
TRACKS
—————————————
http://www.dailymotion.com/video/x7biur
°°°°°°°°°°°°°°°°°°°°°° USB KEY 4 Go – ORDER NOW °°°°°°°°°°°°°°°°°°°°°°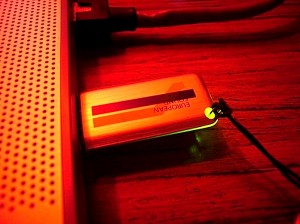 Extremely limited edition of 50 copies.
After 6 months of listening and filling the 150 GB of sound datas recorded by 30 artists during three months in summer 2008, here comes finally this 4GB USB key containing the core of the project + tracks composed especially for the Strasbourg final event.
All tracks and field recordings sounds (approx 600) are under Creative Commons Licences, encoded in mp3 320kbps. The 150GB database is available online in wav format.
key produced and edited by Erratum.org
based on the project sound delta produced by MU : http://www.sound-delta.eu
Curated by MU, Joachim Montessuis and Valérie Vivancos.
20 Eur for each copy (factory price). paypal : erratum@erratum.org
(ou par chèque : joachim montessuis 10 rue de nantes 75019 Paris)
with :
Alejandra & Aeron
Aymeric de Tapol
Brandon LaBelle
Carl Stone
CarlY
Chris Watson
Christian Dergarabedian
Claudia Wegener
Dinahbird
Franciso Lopez
François Martig
Frederik de Wilde
Gael Segalen
Igor Stangliczky
Jean Philippe Renoult
Jérôme Dumais
Joachim Montessuis
Jodi Rose
Kassel Jaeger
Kevin Logan
Knut Aufermann
Ludger Hennig
Maria Balabas
Paul Panhuysen
Phill Niblock
Piotr Talmachou
Robert Hampson
Rodolphe Alexis
Sarah Washington
Sillyconductor
S.I.C. : Spectral Investigations Collective
•Aljosa Abrahamsberg
•Horia Cosmin Samoila
•Chardronnet Ewen
Tanakan/Christophe Rault
Tamara Albaitis
Tô
Vincent Epplay
WPMG