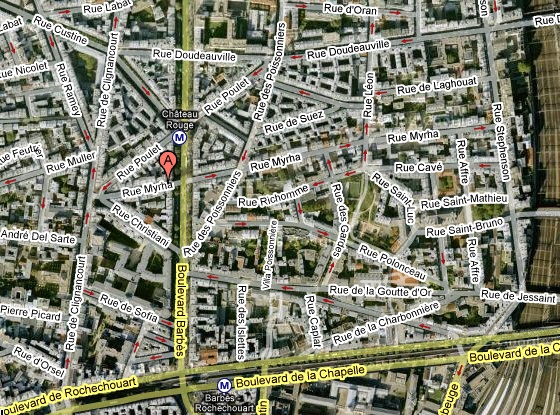 Gaël Segalen original version (séquence enregistrée d'origine) :
Audio clip: Adobe Flash Player (version 9 or above) is required to play this audio clip. Download the latest version here. You also need to have JavaScript enabled in your browser.
Jean-Philippe Renoult edit : 
Audio clip: Adobe Flash Player (version 9 or above) is required to play this audio clip. Download the latest version here. You also need to have JavaScript enabled in your browser.
part of Sound Park audiowalk for festival Sous la Plage Paris 2006
Laila is part of a literacy group in the 18th district of Paris. She consciously declaims the way she finds her direction, her way out through the city, especially from her house to the course.
Because she doesn't know how to read, she delivers us her own landmarks.
We met during a workshop about sound and literacy and migrants i conducted in 2006 with Collective MU with Accueil Laghouat http://www.accueil-laghouat.org/action-3-detail.php
I love that sequence from a conversation we had. She leaves a strong imprint of her own identity that way.