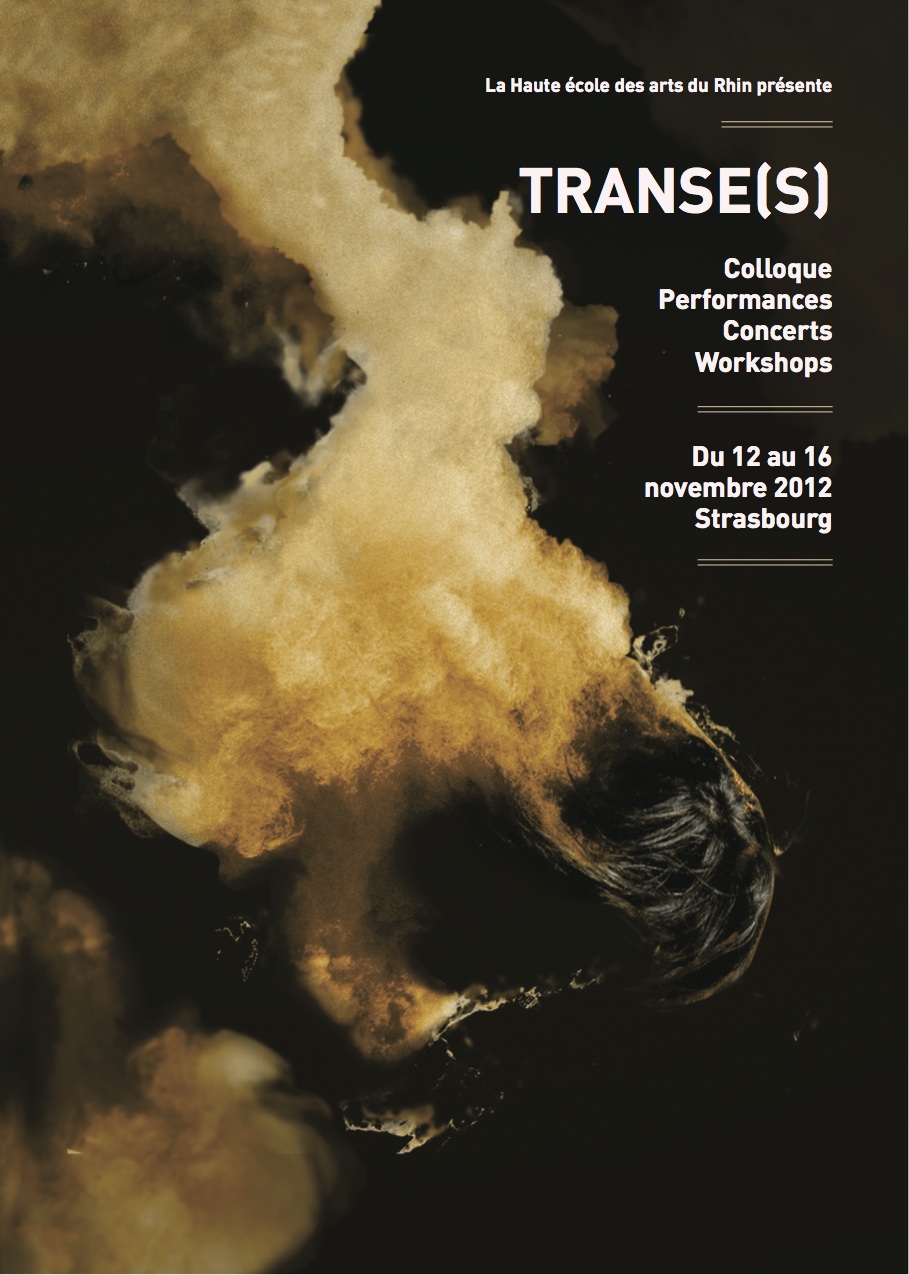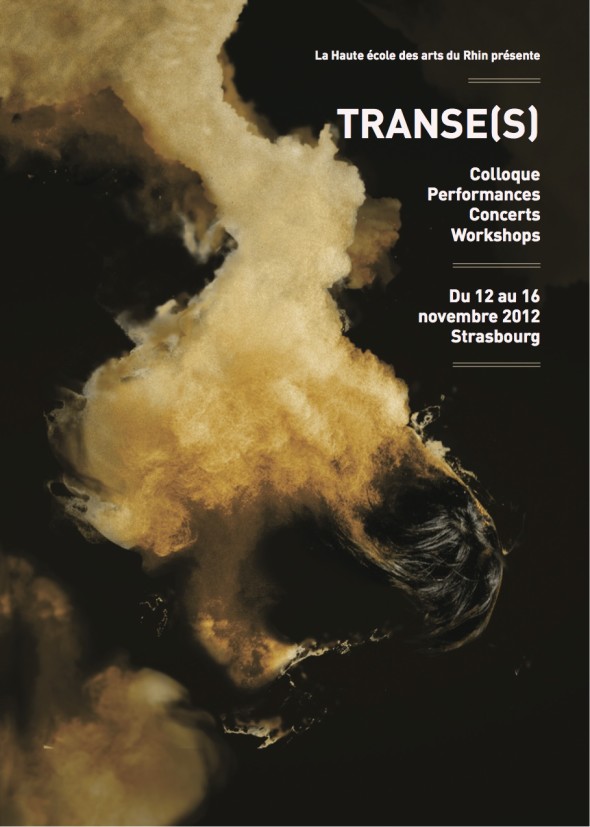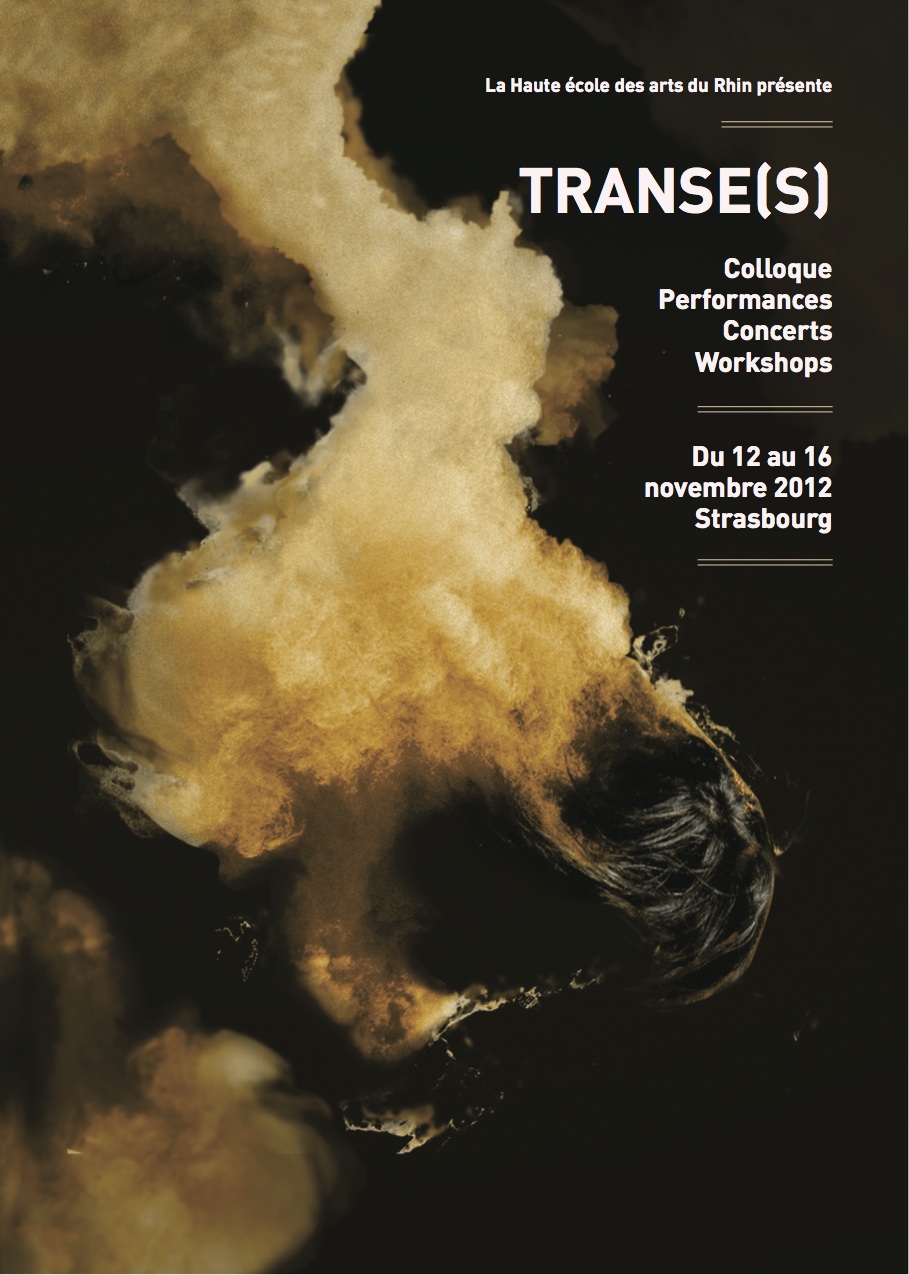 colloque/évènement –
Du 15 au 16 novembre 2012 – HEAR –
Haute école des arts du Rhin – Strasbourg – France

Avec / with : JEAN DURING (F), JEREMY NARBY (CA-CH), CATERINA PASQUALINO-REGIS (F), CHARLEMAGNE PALESTINE (USA), MICHEL GIROUD (F), FRANK RYNNE (IR), MARGARET DEWYS (USA), RUDOLF EB.ER (AUT), YAN GOURDON (F), YVAN ETIENNE (F), JULIEN OTTAVI (F), RYAN JORDAN (GB), GAEL SEGALEN (F), PHILIPPE LEPEUT (F), JOACHIM MONTESSUIS (F).
What is trance? Trance! The Latin "transire" means "going beyond", "passage" (transition), to "cross-over", and can also mean fear of the devil – in a Christian context.
The concept of "trance" will be dealt with in its broadest sense (poetic trance (inspiration), possession trance, visions, hypnotic, mediumistic, ecstatic, etc.), and can be summarized here by the concept of metamorphosis through the crossing over and the transit to a special place or state. This Transe(s) symposium seeks to be a gateway for addressing a number of fundamental questions about the nature and origin of these altered states of consciousness and to explore different forms of trance in art and music. It will seek the foundations of the inspiration, enthusiasm and artistic extension and will explore the nature of consciousness and reality.

In a context of profound change in Western objectivist culture (social, economic, political, artistic and metaphysical), at a moment where science is increasingly called on to deal with new and old paradigms (non-duality and non-causality, multidimensional realities, etc.), new legitimate questions arise about the role of the artist and his creative potential with reality, being able to invent his trance.
For this conference, a number of guests from different disciplines (art, music, poetry, science, anthropology, ethnomusicology, anthropology) will address these issues at conferences and round tables, and will attempt to illuminate and explore the links between art, consciousness, quantum physics, biology, rituals of possession and shamanism.

A set of films and documents consulted are offered from Tuesday, November 13.
The post-symposium on will result in a trance editing actions late 2012.

///////////////////////

Qu'est ce que la transe? Transe, du latin "transire" veut dire "aller au-delà", "passage" (transition),"traverser", mais aussi peur du diable – dans la dénomination chrétienne.
Le concept de "transe" sera à prendre au sens large du terme (transe poétique (inspiration), transe de possession, de vision, hypnotique, médiumnique, extatique, etc), et pourra être résumé ici à la notion de métamorphose par l'idée de traverser et d'être traversé. Ce colloque sur la Transe se veut être une porte d'entrée pour aborder un certain nombres de questions essentielles sur la nature et l'origine de ces différents états modifiés de conscience et explorera les différentes formes de transes dans l'art et la musique, ainsi que les fondements mêmes de l'inspiration et de l'enthousiasme artistique et par extension se questionnera sur la nature de la conscience et de la réalité.

Dans un contexte de mutation profonde de la culture occidentale objectiviste (sociale, économique, politique, artistique et métaphysique), à l'heure ou la science est de plus en plus amenée à faire face à de nouveaux/anciens paradigmes (non-dualité et non-causalité, réalités multidimensionnelles, etc) se posent de nouvelles questions légitimes sur le rôle de l'artiste et de son potentiel créateur face à la réalité, et de sa capacité à inventer sa transe.
Pour ce colloque, un certain nombre d'invités venant d'horizons très différents (art, musique, poésie, science, ethnologie, ethnomusicologie, anthropologie) aborderons ces questions lors de conférences et tables rondes, et tenterons de nous éclairer sur les liens entre l'art, la conscience, la physique quantique, la biologie, les rituels de possession et le shamanisme.
Un ensemble de projections de films et de documents consultables seront proposés depuis le Mardi 13 Novembre.
Le post-colloque sur la transe donnera lieu à une édition des actes fin 2012, juste avant la fin du monde.
Joachim Montessuis
Gaël Segalen – Magaio Egregore, projection sonore immersive (8+4 points). Rituel électronique de mise en vortex/transe du monde sonore des villageois de Nodar (Portugal).