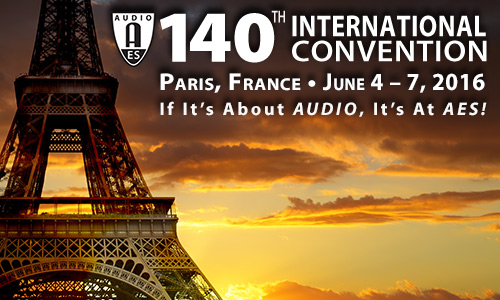 The 140th International AES Convention — Europe's largest gathering of audio professionals from around the globe — is slated for June 4-7 at Paris' Palais des Congrès. From cutting edge research to fundamentals to practical application, the four-day technical program brings the opportunity to network with and learn from leading audio industry luminaries. Special events — including technical tours of premier production facilities and installs, student focused sessions and a 3 day manufacturer exposition round out the Convention.
Presentation by Gaël SEGALEN, Monday, June 6, 16:45 — 18:00 (Room 352A)
Dancers are musicians: Symétric à la lune ("Symmetric to the moon") is a musical piece made exclusively from the sounds of dance (moves, steps, breaths, …), a sound library recorded by Gaël Segalen in conjunction with dancers, improvising in public spaces, listening to their own sounds while producing them (mixed recording technics: binaural, stereo AB, mono, for many grounds, densities and perspectives).

Made originally for headphones (audiowalks organized in different cities), and for boat cruises with the geolocalized app Soundways (Cap Digital, Futur en Seine) created by "Collective Mu for Bande Originale," an artistic exploration along the Canal de l'Ourcq, Paris and northern suburbs, summer 2014. 
Composed, reworked and mastered by Gaël Segalen for vinyl Edition on Paris based label Erratum (May 2016).
links
http://www.aes.org/events/140/presenters/?ID=4858