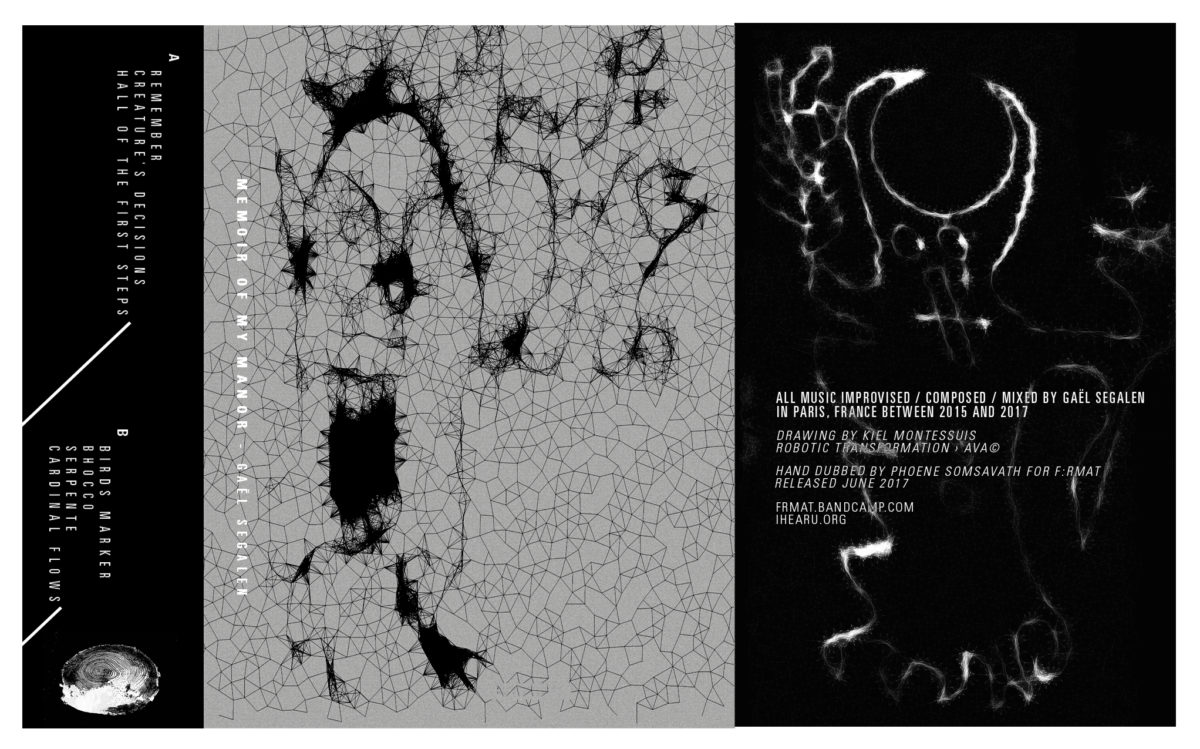 All music improvised, composed and mixed by Gaël Segalen in Paris (France) between 2015-2017.
Drawings by Kiel Montessuis / Robotic transformation, AVA©
Hand dubbed by Phoene Somsavath for F:rmat.Released june 30th 2017 on F:rmat on C50 black Chrome type II tapes.
https://frmat.bandcamp.com/album/ga-l-segalen-memoir-of-my-manor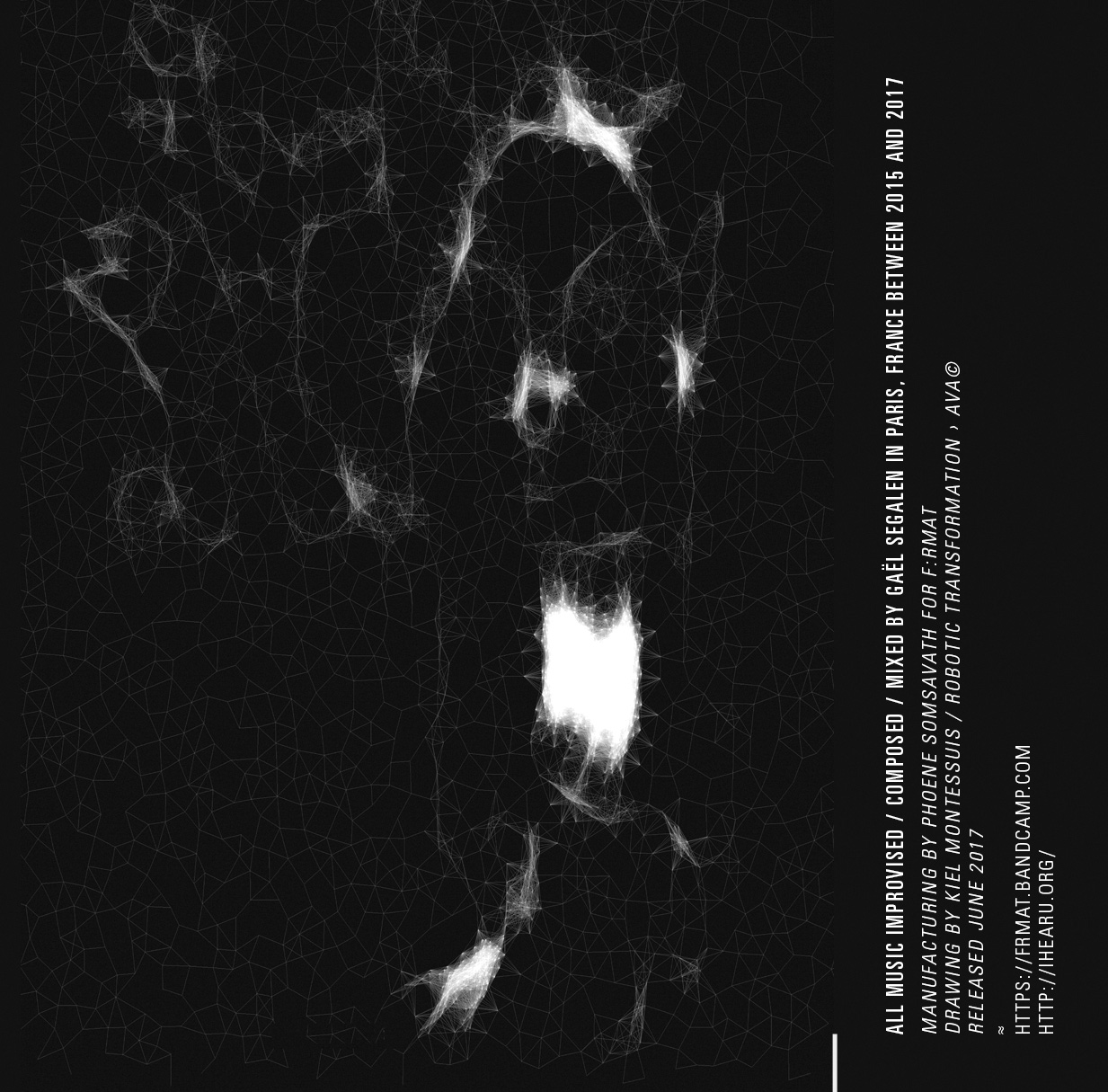 Reviews : 
« Parisian film score composer and recording artist Gaël Segalen keeps the sound door open for ghosts, police car sirens, and simulated abrasive weather elements to invade the 16-minute rhythm noise catcherCardinal Flows. Operating as the polar opposite of ambient, Segalen invites the chaotic noise of everyday nightmares to invade her sound design. So the various pockets of polyrhythmic options on Cardinal Flows are surrounded. No. Inundated, by shifting frequencies. Segalen, who describes her music as "danceable field recordings," keeps this choice cinematic. Instead of obvious. Memoir of My Manor is out now on limited edition cassette and at digital outlets. » (John-Paul Shiver) 
« After 2o years of sound work and field recording, Gaël Segalen finally released her first LP.  2016's L'Ange Le Sage was melodic and abrasive in equal quantities. Memoir of My Manor continues in this vein, adding a new, nearly club-like sensibility. The Parisian artist calls her compositions "danceable field recording", but the first album only hinted at the dance floor, while the second flaunts this facet before drawing back to the shadows. This is appropriate for an album inspired by monsters, although the creature on the cover doesn't seem all that scary.
The thirteen-minute "Remember" pulses and broods, while failing to give an indication of the artist's rough edges.  Instead, it operates as a dangerous mirror to Giorgio Moroder's "The Chase", inviting listeners to run rather than dance.  When additional synths enter, the track takes on a near-industrial sheen.  It's a bold opening gambit, daring listeners to stick around for the left turns.  These arrive with furious abandon in the center of the album, beginning with the shifting sands of "Creature's Decisions", which stops and starts, lurches and lands, spewing static and vitriol, noises wet and dry.  The creature retreats and returns, attacks and digests.  Segalen tilts the floor again and again, preventing listeners from finding their footing.  She's not being mean, simply curious; what will they do if they can't find their bearings?
There's a bit of horror mixed into the batter ~ after all, the f:rmat label's first release was Hammer of Hathor's Corpse Pose ~ but whenever those dance beats enter, the fear dissipates.  Nearly four minutes into "Hall of the First Steps", the percussion leads a path to the DJ booth.  One can think of the opening 3:49 as a long intro or a slow build.  The track could be remixed to make it more club-friendly, but we suspect Segalen would resist such reinterpretations.  This is her vision, after all, reflecting her belief that "all the noises she has collected … can coexist".  There's nothing here so dissonant as to dissuade, nor so consonant as to cross over.  The project is more of an experiment in sound, most apparent on the 16:26 closer, which swerves through traffic, crickets and cash registers before tumbling down a rabbit hole of horns and beats.  As the track advances, it transforms from tribal to apocalyptic.  The creatures have captured the main stage; the end of dance music as we know it is near. » (Richard Allen)
« Gaël Segalen's MEMOIR OF MY MANOR is an improvised juggernaut of sound, recorded in Paris, manipulated and mixed over a period of two years and unleashed in my earholes this morning. Thus, a prophecy, somewhere, is fulfilled. Throughout its seven distinct and fully individualized tracks you'll perceive secrets revealed through circuits – bent and twisted and skewered and vaporized electronics speak their tongues in full and glorious display while seemingly conjured spontaneously. Is Gaël Segalen some sort of mage, some sort of mystic to channel such heartstopping moments at random? The bubbles, the blasts, the arpeggios, the melodies, all of these seem to know just a little bit more than we know, and the codes to their deciphering are just out of our reach. But as Gaël walks the titular manor in her mind, she grounds the cosmic and combines it with the terrestrial, resulting in a thrill ride through halls packed with memories and the ghostly spirits that tend them.» (Ryan Masteller)
« This is simply mesmerising. I heard the opening track 'Remember' on SoundCloud and was hooked instantly. It's 13 minutes of chugging noise, rattling melodies dancing above like a nightmarish carnival. Other tracks feature wild collage, twisted telephone lines, body-slamming bass. It's beautiful in its cacophony. » (Aidan Hanratty)